Dr. rer. nat. Claus Goetz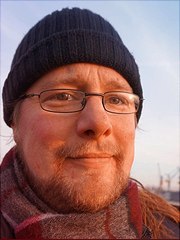 Photo: Claus Goetz
Post Doc
Coordinator of Lothar-Collatz-Seminar
Address
Universität Hamburg
Faculty of Mathematics, Informatics and Natural Sciences
Department of Mathematics
Bundesstr. 55
20146 Hamburg
Office
Room: T14
Contact
Abstract
My research areas are the theoretical and numerical treatment of evolutionary PDEs, in particular hyperbolic conservation laws. I focus on numerical analysis of high order finite volume and discontinuous Galerkin methods, generalized Riemann problems, WENO schemes, and entropy stability. I am currently working on two projects:
(A) Numerical diffusion of high order reconstruction schemes
High order finite volume schemes (such a WENO) have demonstrated their ability to sharply resolve discontinuities in the solution of hyperbolic conservation laws, while still resolving small-scale features in smooth regions. However, for the sake of stability, they often need to employ so-call flux-limiters, that locally reduce the order of accuracy and introduce numerical diffusion.
It has been shown that some flux-limiters only add a small amount of numerical diffusion, while still maintain high-order accuracy and stability. For a theoretical analysis of these limiters, one usually needs to rely on semi-discrete or implicit schemes. Our goal is to carry over some of these concepts to the world of fully discrete, fully explicit schemes.
(B) Comparison of different solution strategies for the generalized Riemann problem

The generalized Riemann problem (GRP) is the initial-value problem for an evolutionary PDE with piecewise constant initial data. In high order schemes it is natural to use the GRP as a building block to compute fluxes at the cell-interfaces. For nonlinear hyperbolic problems, exact closed solutions of the GRP are usually not available.
In order to build an approximate GRP-solver, one usually follows one of the two following strategies: (1) "Instantaneous interaction", which roughly speaking leads to a Taylor-series approximation of the solution at the cell-interface at t = 0; and (2) "Evolution in the small", in which we evolve the data locally in each cell and computed fluxes at the interface from evolved data.
Approach (1) has a stronger analytical motivation, but approach (2) is a lot easier to code and can handle stiff source-terms more easily, so it has gained in popularity. It seems like no rigorous analytical comparison of the two strategies is available in the literature so far. Our goal is to contribute towards closing this gap.
Talks
29.04.2020
Lothar-Collatz-Seminar, University of Hamburg, Hamburg (GER):
"Understanding GRP solvers"
11.11.2019
Applied and Computational Mathematics Seminar UC Dublin (invited talk),
Dublin (IRE):
"How do we solve piece-wise smooth initial value problems?"
18.-21.03.2019
CSE Workshop, Plön (GER):
"Reconstruction-based DG schemes: Fetaures and challanges"
14.02.2019
TRR 181 Einterschool (invited talk), Ratzeburg (GER):
"A short introduction to high oder schemes"
14.11.2018
TRR 181 Workshop: Turbulance and Waves (invited talk), Hamburg (GER):
"Analysis matters - how questions of existence, uniqueness and convergence should inform your daily coding decisions"
09.-13.07.2018
ICOSAHOM 2018: International Conference on Spectral and High Order Methods,
London (UK):
"A family of HLL-type solvers for the generalized Riemann problem"
25.-29.06.2018
HYP 2018: XVII. International Conference on Hyperbolic Problems, University Park, PN (USA):
"On the cell square entropy stability of reconstruction-based DG schemes"
26.-29.03.2018
CSE Workshop, Plön (GER):
 "Anti-diffusive flux corrections for high order finite volume transport schemes"
11.-15.01.2016
WONAPDE2016: 5. Chilean Workshop on Numerical Analysis of Partial Differential Equations, Concepción (CHL):
 "An ADER scheme with a new solver for the generalized Riemann problem and local space-time DG flux integration"
16.-20.04.2015
HONOM 2015: European Conference on High Order Nonlinear Numerical Methods for Evolutionary PDEs: Theory and Applications,
Trento (IT):
 "A novel GRP solver for the ADER method based on a simplified LeFloch-Raviart expansion"
Publications
1. K. Klingbeil, H. Burchard, S. Danilov, C. R. Goetz, and A. Iske (2019): "Reducing Spurious Diapycnal Mixing in Ocean Models, Energy Transfers in Atmosphere and Ocean", C. Eden and A. Iske (eds.), Springer, pp. 245-286
2. C.R. Goetz, D.S. Balsara and M. Dumbser (2018): "A family of HLL-type solvers for the generalized Riemann problem", Computers and Fluids 169, pp. 201-212
3. C.R. Goetz and M. Dumbser (2016): "A square entropy stable flux limiter for PNPM schemes", preprint
4. C.R. Goetz and M. Dumbser (2016): "A novel solver for the generalized Riemann problem based on a simplified LeFloch-Raviart expansion and local space-time discontinuous Galerkin formulation", J. Sci. Comput. 69, pp. 805 - 840
5. C.R. Goetz and A. Iske (2016): "Approximate solutions of generalized Riemann problems for nonlinear systems of hyperbolic conservation laws", Math. Comp. 85, No 297, pp. 35-62
6. C. R. Goetz and A. Iske (2013): "Approximate solutions of generalized Riemann problems: The Toro-Titarev solver and the LeFloch-Raviart expansion", Numerical Methods for Hyperbolic Equations: Theory and Applications, M. E. Vásques-Cedón, A. Hidalgo, P. GarcíaNavarro, and L. Cea (eds.), Taylor-Francis Group, pp. 267 - 275